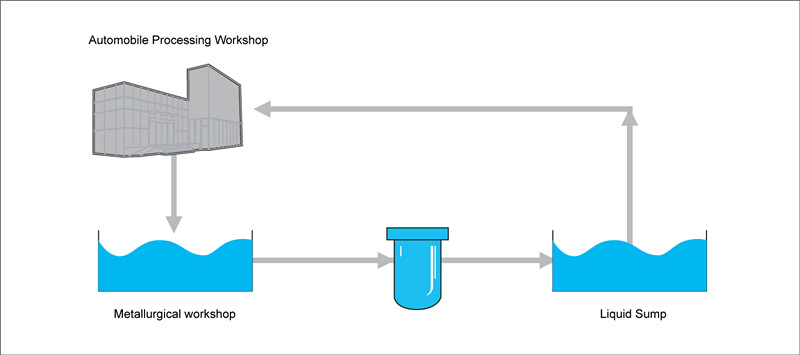 Process Description
In metallurgy, fluids are used for various applications such as lubricating oil, cooling fluid, anti-rust and cleaning. However, when these fluids are mixed with metallic impurities, microorganisms or grinded powder, the processes' precision will be affected. Currently, commonly used cutting fluid includes soluble and insoluble cutting oils, semi-synthetic cutting fluids and synthetic cutting fluids.
Product Features
Implementing an efficient filtration process can achieve:
• Increasing process precision
• Reduces wear of machining tools, extending equipment life
• Greatly improves production efficiency
• Ability to reuse cutting fluids, protects the environment and reduces cost
Applicable Products
• JustFit Mobile Filter
- Suitable for intermittent and small batch production applications, such as filtering cutting fluids for a singular machine.
• FerroClean Magnetic Separation System Series
- Applicable for magnetic contaminants and automatic recovery of magnetic substances
• SelfClear Automatic Filtration System
- Frequently used in recovery of emulsions, waste treatment and other purification processes
• Speedo Multi-Bag Filter Series
- Highly recommended
• Ceramic Membrane Filtration System
- Applicable for ultrafiltration, nanofiltration and reverse osmosis processes, providing a simple and convenient solution for fine filtration requirements.
• Automated Belt Skimmer